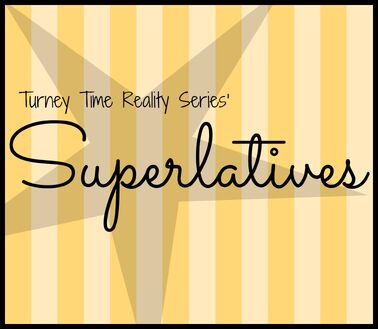 The Turney Time Reality Series' Superlatives are a set of awards given to recognize many great accomplishments, feats, and players throughout the history of the series. Voting for the awards were done by TTRS Players with any ties being broken by the host. The voting period commenced during The Hunger Games, but were not announced until right before the start of Second Chances.
A total of 18 player votes were received, with the 19th vote being cast by the host for ties. Although most awards had over 5 players/seasons/twists receive at least 1 vote, only the Top 3 or 4 vote-getters from each category were revealed. Below is the chart for each award, with the winner being recognized in bold.
Best Season
Nominees
Votes Received
Battle of the Seasons
5
Legends of the Hidden Temple
4
The Amazing Race
2
Best Twists
Nominees
Votes Received
Alternating Formats (BOTS)
5
Evil David (BB Twisty Season/BB International)
3
Power Envelope (Boot Camp)
2
Protection Web (BB Tangled Web)
2
Secret Partners/Golden Power of Veto (I Love Money)
2
Most Memorable Moment
Nominees
Votes Received
Nels2012's Breakdown (LOHT)
2
Battle of the Seasons Finale
2
Mr./Mrs. Popularity
Nominees
Votes Received
BOBROCKS333
4
LaFierceBrittany2
3
Survivor8
2
Biggest Villain
Nominees
Votes Received
Survivor8
5
LaFierceBrittany2
2
The Diva Award
Nominees
Votes Received
KarmaArrived
3
BENLINUS
2
BOBROCKS333
2
Lemjam6
2
Challenge Beast
Nominees
Votes Received
BOBROCKS333
11
Yankees14456
2
Best Strategical Player
Nominees
Votes Received
Survivor8
4
ChapStique
2
Gaiaphage
2
Lemjam6
2
Biggest Underdog
Nominees
Votes Received
BrandonBam
2
Amf7410, Bombshellben, Coltsfan876, Iceyblue52, JetsRock12, Lemjam6, Mybash_, Mysterygame2, Ofl1998, Orlando652, PeaceOut14, Sarge455, Sass21, and Timster
1
The Victim Award
Nominees
Votes Received
LaFierceBrittany2
7
Jharrin7887
2
Timster
2
Favorite Winner
Nominees
Votes Received
BOBROCKS333/Yankees14456 (TAR/LOHT)
4
Yankees14456 (Survivor: Cook Islands)
3
Ev32 (The Gauntlet)
2
Jessebruenger (Boot Camp)
2
The Veterans (The Gauntlet 2)
2
Best TTRS Rookie
Nominees
Votes Received
Pens87
4
Bombshellben
3
Player of the Year
Nominees
Votes Received
BOBROCKS333
5
Yankees14456
4
Lemjam6
3
Survivor8
2
Ad blocker interference detected!
Wikia is a free-to-use site that makes money from advertising. We have a modified experience for viewers using ad blockers

Wikia is not accessible if you've made further modifications. Remove the custom ad blocker rule(s) and the page will load as expected.